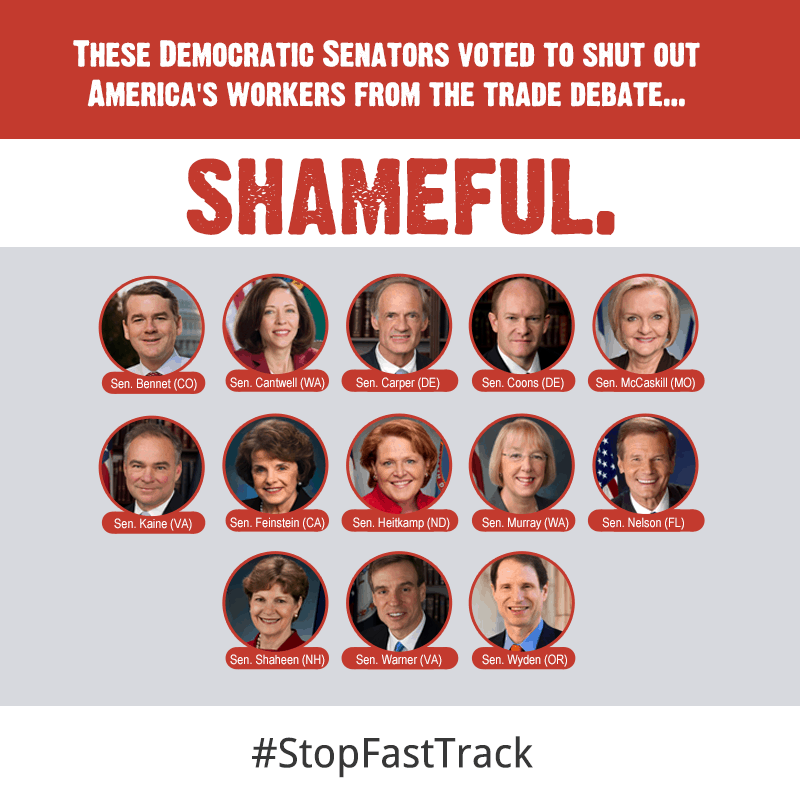 Fast track is being super-fast tracked in the Senate. Wall Street and the big corporations really, really want this one and the Senate is responding, including 13 "Democrats." When the fix is in and you are rigging the game anyway, why bother with the pretense of meaningful and open public debate?
Sometimes a vote is a clear either/or, where you are either voting with Wall Street and the giant, multinational corporations or you are voting with 99 percent of Americans who actually (try to) work for a living. These trade votes are one of those clear choices. Thirteen Democrats joined today with Republicans, Wall Street and the giant, multinational corporations to rush fast track through the Senate with little public debate and few votes on amendments.
These are the 13 "Democratic" Senators who voted to rush the TPA bill: Michael Bennet (Colo.), Tom Carper (Del.), Chris Coons (Del.), Maria Cantwell (Wash.), Dianne Feinstein (Calif.), Heidi Heitkamp (N.D.), Tim Kaine (Va.), Claire McCaskill (Mo.), Patty Murray (Wash.), Bill Nelson (Fla.), Jeanne Shaheen (N.H.), Mark Warner (Va.), and Ron Wyden (Ore.).